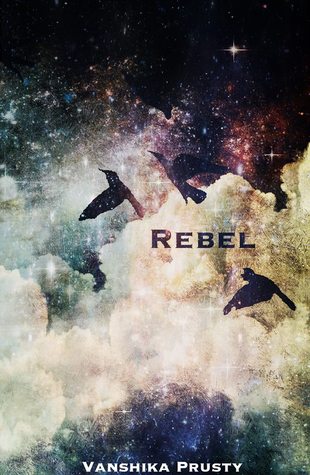 Title: Rebel
Genres: Young adult, science fiction, dystopia
Publisher: FriesenPress
Publication Date: January 14, 2016
Page Number: 234
You could say Arsyn has an attitude problem. Or you could say she sees reality more clearly than most.
Arsyn has grown up under the oppressive, controlling regime that took power in the chaos created by a world disaster—and she hates it. She dreams of overthrowing the Eirene's iron grip, or at least escaping it. But when she and her sister, Tatiana, are captured and sentenced to be killed in the dreaded Labyrinth, escape suddenly becomes an imperative.
It will take all of Arsyn's formidable intelligence and courage to fight her way to the forbidden zone known as the Periculum—and even more to survive there. For while the Periculum is free of Eirene control, it is walled off for good reason. For the unprepared, the dangers of the Periculum are deadly. And as Arsyn joins up with an informal coalition of rebels and friends, the volatile dynamics of the group prove at least as challenging as the mutants and gangs she must defend herself against.
But the hardest test still lies before her: Arsyn must somehow return to the Eirene and rescue Tatiana, and soon. Her sister's life depends on it.
Rating: 4/5 stars
Alright, I'll admit, when Vanshika first contacted me and asked if I was interested in reviewing Rebel, I was a little skeptical. You probably don't know this, but I don't exactly have the best record with ARCs. But, she was super nice and her book honestly sounded really good, so I thought, 'Why not?'
Boy am I glad I took the opportunity to pick this up! Not only was it an enjoyable and fast-paced read, it prevented me from getting into a painful, Cassandra Clare-induced reading slump. That's right folks, this book saved me from a reading slump post-Lady Midnight.
But, just in case that isn't enough of a reason for you to give this book a shot, let's talk about some characters shall we? Let's start with our main character,
Arsyn: I honestly loved Arsyn. A lot of characters in this book seriously infuriated me (and yes, that was the point, so I was happy to be so angry haha!), but Arysn was a sassy, takes-no-attitude-but-gives-it-all-out, kind of main character. She was just so fiery! Not to mention, character development.
And next, let's talk about Arsyn's older sister…. Drumroll please….
Tatiana: It seems I am destined to be annoyed by characters with the name Tatiana. In James Bond she was too swoony…. Don't even get me started with the Tatiana in The Bronze Horseman. (My eyes are rolling back into my skull at the thought. Just thought you should know.) And this Tatiana… I dunno guys. She was just so naive, and sure, she thought she was doing the right thing, but just…. Nope. Sorry! Although I did see development in her as well. (Can we talk about the crazy character development in this book?!)
Now, let's talk about the big swoony guy of this novel,
Velius: Now, in my earlier edition, his name was Alistar, and I'm totally digging the name change! (Once again, in all honesty, it was because I couldn't stop picturing him as Alistar from Supernatural lol) But, once again, character development people!!! But yeah, he totally reminded me of a Will Herondale-type dude. *smirks* And that, I believe, is all I need to say there.
So, let's talk about the plot, shall we?
There was so much gripping action to move it along, and I absolutely loved how fast-paced it was. However, I felt that the timeline could've been spaced out a bit. All these deep relationships happen within a matter of days, occasionally weeks, and I just felt like the timeline should've been longer, as these bonds seemed a tad unrealistic. (But then again, I've also never been thrust into the situation that they were in either! So who knows, I could be totally wrong here!)
Other than that, I adored this book. It was very well-written, intriguing, and extremely thought through, which made it a very impressive debut novel! You go Vanshika! Slay girl slay! *crazy fist pumping*
And that cliffhanger! It kills! (I even got a two chapter excerpt from book two and that just made it worse!)
Anywho, I hope you give this book a shot and see how you like it!
Au revoir, and until next time!